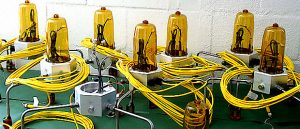 ORCA- The Ocean Research & Conservation Association on the Treasure Coast uses "Kilroys" submerged in our waterways to monitor water quality. Unfortunately, the number of Kilroys maybe reduced because of state funding cuts.
Cut by Florida Legislature, ORCA seeks money for Kilroy water monitors
A network of remote-controlled water monitors called Kilroys and LOBOs provide constant, real-time data on conditions in the Indian River Lagoon and its tributaries. By TYLER TREADWAY/TCPALM
Read Story Here
Excerpt:
It's all about math:
25: The number of remote-controlled water monitors, called Kilroys, Fort Pierce-based Ocean Research and Conservation Association has in the lagoon and the creeks and canals that feed it.
$30,000: The annual cost to maintain each Kilroy.
$250,000: The amount of money the state allocated in the 2017-18 fiscal year budget for the Kilroys.
8⅓: The number of Kilroys that money will maintain for a year.
ORCA received $250,000 from the Florida Legislature each of the last two years, but last year Sen. Joe Negron, a Stuart Republican, helped them get an extra $500,000 from the state Department of Environmental Protection.
That extra money didn't come this year.