By Tyler Treadway
September 29, 2016
TC Palm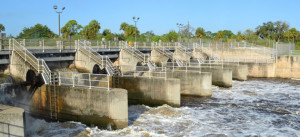 St. Lucie River conditions are right to feed another round of blue-green algae blooms, but don't expect to see — or smell — a repeat of this summer's massive blooms.
Low salinity, plenty of sunlight and warm water temperatures are still adequate for algae to bloom this late in the year, said Ed Phlips, an algae expert and professor at the University of Florida.
"The conditions in the estuary now won't kill (blue-green algae)," Phlips said, "but it would grow more slowly than it did."
Possible blue-green algae blooms were reported Wednesday to Treasure Coast Newspapers at several sites adjacent to the river, including:
Krueger Creek just east of downtown Stuart
Half-Mile Lake Canal off the river's North Fork in the North River Shores neighborhood
A private community dock on Sunset Drive in northern Stuart
River water near the sites was about 85 degrees and salinity was less than 3 parts per thousand  at 1 p.m. Thursday, according to remote-controlled sensors maintained by Harbor Branch Oceanographic Institute. Both are "well within the range" for blue-green algae to bloom and grow, Phlips said.
To continue reading this article, please click here:
http://www.tcpalm.com/story/news/local/indian-river-lagoon/health/2016/09/29/algae-can-bloom-in-st-lucie-river/91241042/