By Kimberly Miller
July 20, 2017
Palm Beach Post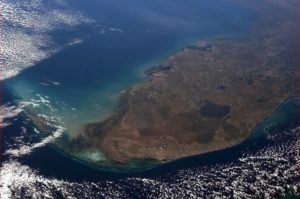 The South Florida Water Management District and Florida Department of Environmental Protection are monitoring an algae bloom on Lake Okeechobee that has been growing since at least last week.
Randy Smith, a spokesman for the district, said samples were taken and sent to the DEP to test for toxins.
"We would consider it a significant algal bloom," Smith said. "We did grab some samples Tuesday and overnighted them to Tallahassee for testing."
DEP spokeswoman Dee Ann Miller said the bloom was first identified on July 12 by the water management district during a flyover.
An algae sample is being analyzed with results expected by the end of the week.
"Persistent blooms are routinely monitored and retested," Miller said. "DEP staff will survey the area again early next week and will take additional samples if a bloom is still present."
A DEP website shows the dates and locations of samples, with results of tests when they become available.
Warm temperatures and recent rains increasing run off into the lake from the north contribute to the algae growth.
Smith said there are no discharges from the lake into either the Caloosahatchee or St. Lucie estuary.
A widespread algae outbreak that occurred during the summer of 2016 caused thick sludgy mats of algae to grow in the St. Lucie River. The smelly mass hurt businesses and enraged residents who blamed Lake Okeechobee discharges for the growth.
It also spawned legislation that was approved this year to create and expedite water storage south of Lake Okeechobee.