TC Palm Editorial Board
January 20, 2017
TC Palm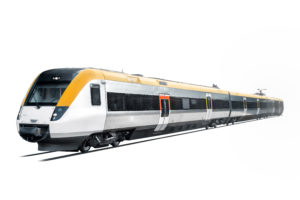 Treasure Coast residents opposed to the All Aboard Florida/Brightline passenger rail project have had a nagging suspicion from the beginning.
They have suspected, understandably, that state and federal agencies with some degree of oversight have been predisposed to approve the Miami-to-Orlando project.
Rail opponents have questioned the seeming lack of scrutiny on the part of state and federal officials. For example, the U.S. Department of Transportation granted initial approval for All Aboard Florida's request for $1.75 billion in private-activity bonds in December 2014, nine months before the Federal Railroad Administration released its final environmental impact statement on the project.
How can a federal agency approve a financing request of this magnitude without first evaluating all relevant documents, especially something as critical as the final environmental impact statement?
This procedural omission was the first major clue to Treasure Coast residents that their concerns were being subverted.
It gets worse.
Last May, U.S. Rep. Bill Posey, R-Rockledge, wrote a letter to the U.S. Department of Transportation, inquiring about the agency's due diligence with respect to All Aboard Florida's financing request.
This wasn't the first time Posey, an advocate for greater transparency with respect to rail issues, has challenged the federal financing process. In January 2015, Posey offered key amendments to the Passenger Rail Reform and Investment Act of 2015. One amendment would have capped at $600 million the amount of Railroad Rehabilitation & Improvement Financing loans authorized by the U.S. Department of Transportation to a single railroad in a five-year period. Another amendment would have required the federal government to obtain a resolution of support from each county government through which a rail project would operate before providing a direct loan or loan guarantee.
Not surprisingly, Posey's amendments failed.
To Continue reading, please click on the link: http://www.tcpalm.com/story/opinion/editorials/2017/01/20/our-view-analysis-lacking-aaf-project-clearly/96667464/