By Jacqulyn Powell
August 16, 2016
WPTV
MARTIN COUNTY, Fla. – Martin County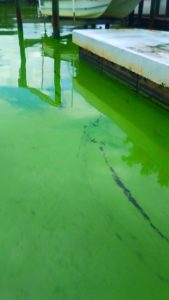 officials are keeping a close eye on a new algae growth showing up in several spots in the St. Lucie Estuary.
Just when it looked like the Treasure Coast was getting some relief, county leaders say rainfall increased, raising water levels and contributing to the new algal blooms. Local ecosystem experts say it could be the beginning of another major algae crisis like the area saw earlier in the summer.
"We're hopeful that it's not a repeat of what we saw in July, but the conditions are such that it looks like it could be a prolonged event," said Martin County's ecosystem manager, Deborah Drum.
Drum spoke to Martin County Commissioners about the issue Tuesday afternoon.
She explained that employees from her department are checking the water weekly and reporting any new growth to Florida's Department of Environmental Protection. Drum also added that the county has hired a company to test for toxins in local water, air, sediment and oyster tissue.
According to Drum, some of the algae began to go away because of a dry July. But with recent rain and more rain expected soon, it's expected to possibly continue growing.
Phil Norman, co-owner of Outboards Only, a marina in Rio, says another round of heavy algae could be devastating to business.
"I've had several customers leave the area," Norman said. "They have literally sold their boats, sold their houses and moved on to other places. I don't know where that's going to end. I keep hearing more and more stories about people saying that it's not worth keeping a boat around here anymore, which, if this keeps up, it won't be."
To view the video clip accompanying the piece, please click on the link below:
http://www.wptv.com/news/region-martin-county/stuart/martin-county-leaders-worry-new-algae-bloom-could-be-as-bad-as-the-first-one-this-summer