No one wants to be Chicken Little.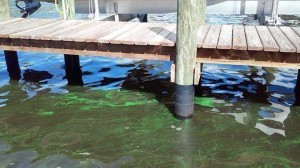 The sky wasn't falling. The silly bird panicked over a little acorn.
But the sky is falling on Lake Okeechobee, the St. Lucie River and the Indian River Lagoon.
Call it cyanobacteria or call it green slime, it's real, it's here, and it's dangerous.
From time to time, the state tests a few algae blooms in the river and tells us whether they were producing microcystin toxins four days earlier.
Those toxins can kill your cow or your dog if they lap them up. Most people have enough sense not to do that.
But we do love to fish and play in our waterways — especially on hot summer days. Microcystin can cause rashes on contact. Eating contaminated fish can cause liver damage. You don't want to play in it. You don't want your dinner to live in it.
When the tests come back negative, are we supposed to relax and take the kids out to the sandbar?
To continue reading the article, please visit the TC Palm website:
http://www.tcpalm.com/opinion/guest-columns/maggy-hurchalla-dont-dismiss-dangers-of-algae-in-our-waterways-34247a41-10f2-533a-e053-0100007f8d53-384562401.html