From CBS 12:
Following Hurricane Irma and water that has been stirred up comes a warning from the Health Department: Stay out of the water!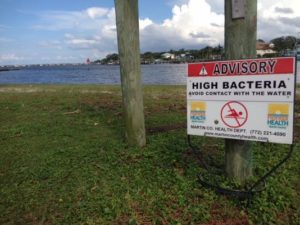 One Stuart mom says her son became very sick after fishing in Sandsprit Park.
"The Florida Health Department is warning people in Martin and St.Lucie Counties to stay out of the water in some places because of high levels of bacteria.
In Martin County water at Sandsprit Park and near the Stuart Causeway both tested high for Enteric Bacteria.
In St. Lucie County the Florida Department of Health issued a swimming advisory for South Beach Causeway, JC Park, Jetty Park, Frederick Douglas Park, Walton Rocks Beach on South Hutchinson Island, and at the North Fork of the St. Lucie River because the River Park Marina, Veterans Park and Westmoreland Tract Canoe Launch all tested high for bacteria."
Note: Martin County will test the water again on Monday. (Sept. 25, 1017)
Read/Watch the story here:
http://cbs12.com/news/local/enteric-bacteria-found-in-martin-county-waters
Check the status of the water by visiting the Martin County Health Department online:
http://martin.floridahealth.gov/newsroom/2017/09/bacteria-levels-9-21-2017.html