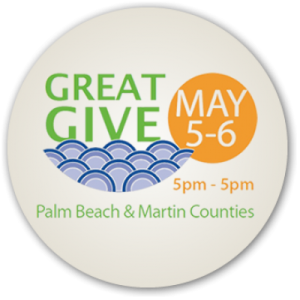 Update 5/7/15: Thank you to everyone who donated to this year's GREAT GIVE! We appreciate your ongoing support!
The Countdown is on for this year's Great Give! Great Give will be held for 24 hours, beginning May 5th, 2015 at 5PM and lasting until May 6th at 5PM.
What is Great Give?
Great Give Palm Beach & Martin Counties is a 24-hour online giving event led by the Community Foundation for Palm Beach County, United Way of Palm Beach County and United Way of Martin County designed to raise as much money as possible for local nonprofits in a single day. This community-wide event celebrates the spirit of giving and the collective effort it takes to strengthen our community by raising critical funds for local nonprofits.
During that 24 hour period, every local gift will be multiplied with additional dollars from a bonus pool of $550,000 raised by the Community Foundation. Great Give Palm Beach & Martin Counties will make every hour May 5-6 meaningful by providing this unique opportunity for our community to raise significant funds that will make a direct, positive impact on the lives of our neediest residents.
Here's a link to The Guardians of Martin County donation page:
Guardian Donation Link
How do your donation dollars help?
The Guardians of Martin County (GMC) & Citizens Against The Train (CATT)
2014-2015 List of Accomplishments and Action Steps on Florida Water and Train Issues
2014
-Initiated local TV advertising that helped stall an attack on the Martin County Comprehensive Plan via House Bill 703 in Tallahassee.
-Ran a six-week TV campaign in July-August opposing All Aboard Florida, increasing petition signings for Florida Not All Aboard to over 53,000 now.
-Created a separate CATT website and social media marketing program providing constant updates on AAF and opposition activities, building a solid base of 3,500 followers in six months.
-Implemented additional anti-AAF advertising in October-December to drive people to the CATT website — in turn CATT delivered 8,500 hand-addressed letters to Federal, State and local legislators commenting on the draft Environmental Impact Statement (EIS).
-Developed a local program of posters, events and videos to urge passage of Amendment One, subsequently approved by over 75% of the electorate.
2015
-Created a communications program using the CATT website to send 700 letters to Martin and Indian River County Commissioners urging the allocation of county funds to fight AAF; resolutions passed unanimously by both Commissions and $4.1 million is now dedicated against AAF.
-Launched a full-page print ad campaign in The Stuart News and Palm Beach Post to explain that AAF is a "A bad deal, not a done deal".
-Consequently, more ads drove citizens to the CATT website from which hundreds of pro forma letters were immediately sent to key legislators
-In addition, created more than 1,200 letters sent to the Army Corps of Engineers and the Coast Guard through CATT, demanding public meetings and that further investigations be conducted to assess specific environmental impacts of AAF.
2015 (Going Forward) We plan to:
-Release new videos featuring disadvantaged Florida residents, especially seniors and lower income citizens who will be destroyed by AAF.
-Continue effective joint ventures combining advertising and social media to thwart AAF before the EIS is released.
-Continue collaborating with other anti-AAF groups in developing legal and legislative strategies that can stop the trains.
-Create a special task force dedicated to thwarting FL legislative challenges to Amendment One that threaten to hijack funds approved by voters.
-Continue our effort to purchase the 46,000 acres of U.S. Sugar land necessary to redirect Lake Okeechobee run-off south and help save our lagoon, before the FL legislative session ends on May 1.
-Launch specific communications initiatives needed to defend our Comprehensive Plan and the Martin County Difference.
Here's a link to The Guardians of Martin County donation page:
Guardian Donation Link