By Eve Samples
January 26, 2017
TC Palm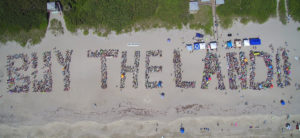 Let the gamesmanship begin.
On Thursday, a bill was filed advancing state Senate President Joe Negron's proposal to buy 60,000 acres south of Lake Okeechobee for construction of a long-envisioned reservoir. The goal: To divert polluted lake water that regularly fouls the St. Lucie and Caloosahatchee estuaries, clean that water, then send it south to the Everglades.
This is not some toothless attempt to feign effort.
The bill is a straight-up edict to the reluctant South Florida Water Management District: Buy the land from willing sellers — or else you'll be pushed to close on a previously struck deal for 153,000 acres from U.S. Sugar (an option that's legally binding until 2020). That's despite the fact U.S. Sugar doesn't want to sell anymore.
The bill also authorizes the state to issue bonds for its half of the $2.4 billion project, with the federal government providing the other half. Congress shouldn't be surprised by the request; the reservoir originally was proposed 17 years ago as part of the federal Comprehensive Everglades Restoration Plan.
Senate Bill 10, filed by Sen. Rob Bradley, R-Fleming Island, points to last summer's toxic algae outbreak as an impetus:
"The Legislature declares that an emergency exists regarding the St. Lucie and Caloosahatchee estuaries due to the harmful freshwater discharges east and west of the lake. Such discharges have manifested in widespread algae blooms, public health impacts, and extensive environmental harm to wildlife and the aquatic ecosystem. These conditions threaten the ecological integrity of the estuaries and the economic viability of the state and affected communities."
. . .
The bill's boldness is noteworthy. Negron, a Republican from Stuart, and Bradley deserve credit for pushing it.
To read the complete article, please click on the link: http://www.tcpalm.com/story/opinion/columnists/eve-samples/2017/01/26/eve-samples-land-buy-bill-bold-response-toxic-algae/97090152/