By Eve Samples
December 2, 2016
TC Palm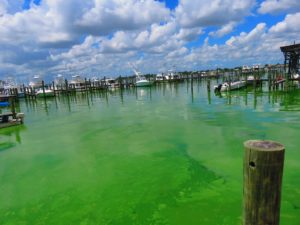 Do you have seasonal amnesia?
Symptoms may include:
Ability to enjoy our waterways without having flashbacks of blue-green algae.
Forgetting the ammonia-like stench that clung to parts of the St. Lucie River this spring and summer.
Inability to recall dead fish floating near downtown Stuart.
Feelings of lessened frustration toward officials who haven't put a stop to the dumping of polluted water from Lake Okeechobee to the St. Lucie River.
If you're experiencing these symptoms, you're not alone.
I had seasonal amnesia for a spell — right after the weather cooled down and lake discharges finally ended in early November.
I had dinner at a riverfront restaurant without giving a passing thought to this summer's toxic algae outbreak. Mullet jumped. Heron waded. I walked along Stuart's Riverwalk without spotting a fleck of green algae.
Then, last weekend, my memory came back. A trip across the state cured me.
My husband and I celebrated our 12th wedding anniversary on Cabbage Key, a Florida-the-way-it-used-to-be spot off the coast of Fort Myers. During the boat ride there, we saw slick little orbs floating in Pine Island Sound. The dead fish were apparent casualties of red tide, a harmful algae bloom that has intermittently plagued the west coast of Florida. Fish kills affecting multiple species were reported along Pinellas, Charlotte, Lee and Collier counties during the week prior to Nov. 30, reported the Florida Fish and Wildlife Conservation Commission.
Red tide is a different problem, with different causes, than the blue-green algae we witnessed during "Mean Green 2016." Red tide can emerge in saltwater, far from man-made nutrient sources. Blue-green algae likes warm freshwater. There's a debate about whether Lake Okeechobee discharges to the Caloosahatchee River exacerbate the red tide problem. Yet there is a strong link between the pollutant-laced lake discharges and blue-green algae.
In both cases, impacts on health are disturbing. Red tide can cause skin and respiratory irritation in humans. Blue-green algae can produce toxins that affect the liver, digestive system and nervous system, according to the Florida Department of Environmental Protection. Swallowing untreated water can cause abdominal cramps, nausea, diarrhea and vomiting. Swimming in it can cause rashes. Scientists are investigating a link between the toxins and neurological disorders such as Parkinson's Disease.
To continue reading the piece and advice from Eve Samples on remaining vigilant, please click here: http://www.tcpalm.com/story/opinion/columnists/eve-samples/2016/12/02/eve-samples-do-you-have-case-seasonal-amnesia/94755274/