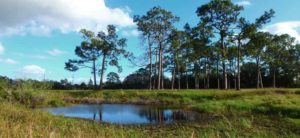 On April 25, 2017, Martin County Commissioners will vote on CPA 07-17, an amendment to the Martin County Comprehensive Plan that would allow developers to pave over small urban wetlands.
Please urge Commissioners to vote against this amendment by attending the meeting, sending an email or calling.
Email all Commissioners: comish@martin.fl.us
Send an email using our form here: Contact Commissioners
Location:
Martin County Administrative Center
2401 SE Monterey Road
Stuart, FL 34996
Date & Time:
April 25, 2017, 9:00 AM
Link to Agenda: Agenda
Watch our Special Report on Wetlands: https://youtu.be/ZeRnNIkQruE
Small wetlands are important to Martin County residents who count on them for neighborhood flood protection, habitat for threatened or endangered wading birds and other species, preservation of native vegetation, clean drinking water and pollution-free rivers and estuaries.
Allowing developers to destroy wetlands of one-half acre or less within the urban boundaries is not reasonable, responsible, or respectful of nature, of our residents, and of our economy which thrives on the special quality of life in Martin County.
Learn More: Attend the Citizens' Forum on April 22nd.