Written By Jennifer Sorentrue, Palm Beach Post Staff Writer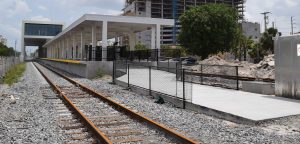 All Aboard Florida's Brightline has won approval to sell $600 million in tax-exempt bonds to help pay for the first leg of its passenger train project connecting West Palm Beach and Miami.
The Florida Development Finance Corp, a special financing unit authorized by the state Legislature to issue tax-exempt bonds to private entities, signed off on the sale on Friday.
The bonds can only be used to pay for Brightline's first phase, which will operate between its stations in West Palm Beach, Ft. Lauderdale and Miami. The company has said it plans to launch service on the route by the end of the year.
Read the entire story here